Charter Bus for Georgia Aquarium Atlanta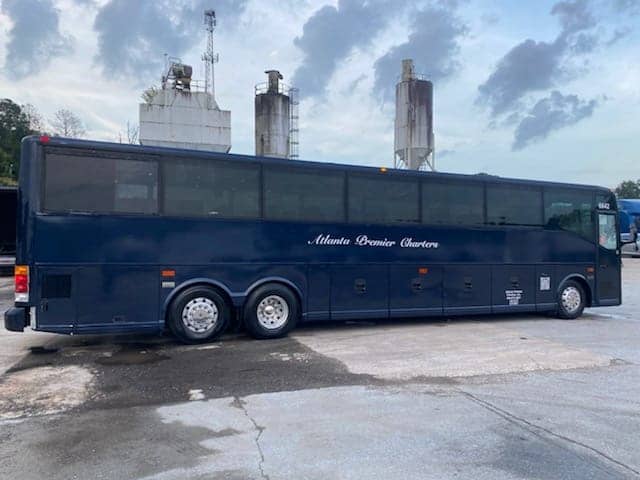 Your Premier Charter Bus for Georgia Aquarium Atlanta
Welcome to Atlanta Premier Charters, your trusted and reliable service provider for unforgettable visits to the mesmerizing Georgia Aquarium. We take pride in offering top-notch transportation solutions that cater to the needs of groups of all sizes, ensuring a comfortable and hassle-free journey for all our customers.
Why Choose Our Service for Georgia Aquarium
Premium Fleet
Our fleet of vehicles is well-maintained, modern, and equipped with all the amenities to make your journey to the Georgia Aquarium enjoyable and convenient. Relax in comfortable seating, stay connected with onboard Wi-Fi, and refresh yourself with air conditioning throughout the trip.
Safety First
Your safety is our utmost priority. All our buses are operated by experienced and licensed drivers who follow strict safety protocols. Additionally, our vehicles undergo regular inspections to ensure compliance with safety standards.
Customized Itineraries:
We understand that each group has unique needs. That's why we offer flexible and customizable itineraries to fit your schedule and preferences. Whether it's a school field trip, corporate outing, or family reunion, we've got you covered.
Convenience:
Say goodbye to parking hassles and navigating unfamiliar roads. We provide door-to-door service, ensuring a stress-free and convenient travel experience for you and your group.
Comfort:
Our buses are designed with your comfort in mind. Enjoy spacious seating, climate control, and modern amenities to make your journey as enjoyable as possible.
Flexibility:
Whether you're planning a school field trip, a corporate outing, a family reunion, or any other group adventure, we offer customizable itineraries to suit your specific needs and preferences.
Environmental Responsibility:
As part of our commitment to the environment, we employ fuel-efficient vehicles and eco-friendly practices to reduce our carbon footprint. Choose Atlanta Premier Charter for a sustainable transportation option.
What We Offer for Georgia Aquarium
Professional Drivers:
Our drivers are courteous, experienced, and knowledgeable about the area, ensuring a smooth and enjoyable ride.
Modern Amenities:
Sit back and relax with onboard facilities such as reclining seats, restrooms, entertainment systems, and more.
Group Accommodations:
No group is too big or small. We have a range of vehicle sizes to accommodate different group sizes, from intimate gatherings to large parties.
Affordable Rates:
We offer competitive pricing options to fit within your budget, while still providing top-notch service.
Join us for a hassle-free, comfortable, and exciting excursion to the Georgia Aquarium. We look forward to serving you and making your visit truly special!
Ready to book your vehicle for a memorable Georgia Aquarium visit? Contact us today to discuss your requirements, get a personalized quote, and reserve your spot. Our friendly and knowledgeable team is available to assist you with any inquiries you may have.
The Georgia Aquarium is a renowned public aquarium located in Georgia, USA. It opened its doors on November 23, 2005, and is one of the largest aquariums in the world. The facility is home to a diverse range of marine life, featuring more than 100,000 animals from various aquatic habitats.
Key features of the Georgia Aquarium include:
Ocean Voyager exhibit: This exhibit houses the enormous Ocean Voyager tank, which holds 6.3 million gallons (about 23.8 million liters) of saltwater. It is one of the largest single aquatic exhibits in the world and is home to several whale sharks, manta rays, and other large fish species.
Tropical Diver exhibit:
This exhibit showcases vibrant coral reefs and various marine species typically found in tropical regions.
Cold Water Quest exhibit:
This exhibit highlights animals from colder regions, including beluga whales, sea otters, and penguins.
River Scout exhibit:
River Scout focuses on freshwater habitats and features species from rivers around the world.
Dolphin Celebration presentation:
The Georgia Aquarium is also known for its entertaining and educational dolphin presentations that showcase the intelligence and agility of these marine mammals.
The Georgia Aquarium plays a vital role in marine conservation, education, and research. It participates in various conservation initiatives to protect and preserve marine ecosystems and promotes awareness of the importance of environmental stewardship.
Visitors to the Georgia Aquarium can enjoy an immersive experience, interact with the marine life, and learn about the various species and their habitats. It is a popular destination for tourists and locals alike, offering a fascinating glimpse into the underwater world.