Charter Bus Rental for Sightseeing in Atlanta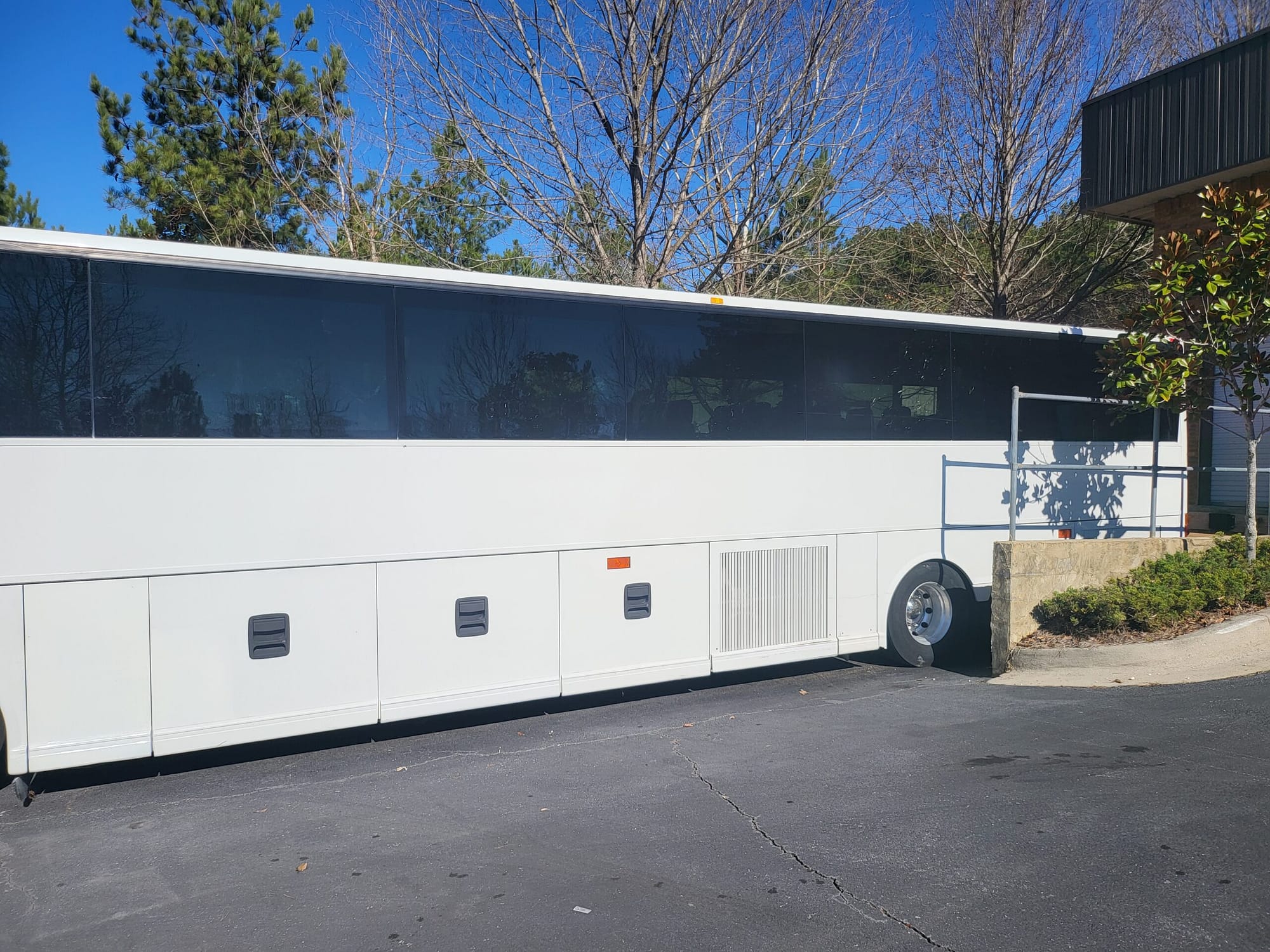 Charter Bus Rental for Sightseeing in Atlanta
Explore the vibrant city of Atlanta in comfort and style with our premium charter bus rental service for sightseeing. Whether you're visiting as a tourist or planning a local excursion for your group, our experienced drivers and well-equipped buses are ready to take you on a memorable journey through Atlanta's iconic landmarks and attractions.
1. City Tours
Discover the best of Atlanta with our comprehensive city tours. Our knowledgeable drivers will take you to famous landmarks, historical sites, and hidden gems, providing insightful commentary along the way.
2. Group Excursions
Organizing a group outing in Atlanta? Our charter buses are the perfect choice for group excursions, ensuring everyone travels together and enjoys the sights without the hassle of individual transportation. 
3. Customized Sightseeing Routes
Have specific places in mind that you'd like to visit? We can work with you to create a customized sightseeing route that caters to your preferences and interests. 
4. Day Trips and Beyond
Looking to explore attractions outside of Atlanta? Our charter bus service can accommodate day trips to nearby cities and destinations, allowing you to make the most of your time and enjoy a comfortable ride.
Why Choose Us for Sightseeing in Atlanta?
Expert Local Drivers
Our drivers are familiar with Atlanta's roads and attractions, ensuring a smooth and efficient sightseeing experience.
Comfortable and Spacious Buses
Our charter buses are designed with your comfort in mind, featuring ample seating and modern amenities to make your journey enjoyable.
Safe and Reliable Travel
Your safety is our top priority. Our drivers are experienced professionals who adhere to the highest safety standards, providing you with a secure travel experience.
Customizable Packages
We offer flexible packages to accommodate your group size, travel preferences, and schedule, ensuring a seamless sightseeing experience tailored to your needs.
Request a Quote
To receive a personalized quote for your sightseeing charter bus rental in Atlanta, please contact us through our website or phone. Let us know the date, group size, and any specific requests you may have, and we'll be happy to assist you in planning the perfect sightseeing journey.
Explore the beauty and excitement of Atlanta with our charter bus rental service for sightseeing. Contact us today to reserve your transportation and embark on an unforgettable journey through the heart of Atlanta's attractions!
Charter Bus Rental for Places to Visit in Atlanta
Explore the top attractions and must-visit places in Atlanta with our convenient and comfortable charter bus rental service. Whether you're planning a sightseeing tour, a group outing, or a special event, our experienced drivers and well-equipped buses are ready to take you to the best destinations in Atlanta.
Popular Places to Visit in Atlanta
1. Georgia Aquarium
Dive into an underwater world of wonder at the Georgia Aquarium, one of the largest aquariums in the world. See fascinating marine life and enjoy interactive exhibits for an unforgettable experience.
2. World of Coca-Cola
Discover the history of the world's most famous beverage at the World of Coca-Cola. Explore interactive exhibits, sample different Coca-Cola products from around the world, and immerse yourself in the brand's legacy.
3. Martin Luther King Jr. National Historical Park
Pay homage to the civil rights icon at the Martin Luther King Jr. National Historical Park. Visit his childhood home, the Ebenezer Baptist Church, and the King Center to learn about Dr. King's life and legacy.
4. Centennial Olympic Park
Enjoy a relaxing stroll or have a picnic at Centennial Olympic Park, a beautiful green space built for the 1996 Summer Olympics. The park features fountains, gardens, and memorials, making it a perfect spot to unwind.
5. Atlanta BeltLine
Explore the Atlanta BeltLine, a network of multi-use trails and parks that connect neighborhoods and offer a unique perspective of the city. Rent bikes or take a leisurely walk to enjoy the urban greenspace.
6. Ponce City Market
Shop, dine, and soak in the vibrant atmosphere at Ponce City Market, a trendy mixed-use development housed in a historic building. It offers a wide array of shops, restaurants, and entertainment options.
7. High Museum of Art
Immerse yourself in the world of art at the High Museum, which boasts an impressive collection of artworks from diverse cultures and time pe